There is so much to consider when looking at our overall market: Inventory, interest rates, stock market, short-term rental moratoriums. All combine to confuse us as to where our real estate market is going. So, let's dissect this a bit and consider the facts.
Inventory:
In looking at the chart below, you will easily see that year after year, inventory for residential properties in Summit County Colorado peaks in July:

All data from the Summit MLS, Inc. InfoSparks 2022 Showing Time.
Now, let's compare July inventories from 2014 through today to appreciation rates in the Summit County real estate market.
Year

July
Inventory

Annual Appreciation
Rate

2014

1,525

0.70%

2015

1,253

10.21%

2016

710

6.06%

2017

584

18.37%

2018

565

9.59%

2019

806

9.15%

2020

638

10.04%

2021

273

23.72%

2022

449

Approx 18% YTD
We have watched the market over the past few weeks, and it seems that we may have peaked in our inventory at 449 residential properties active on the market.
Interest Rates:
Summit County Colorado does not tend to be as affected by rising interest rates as primary home markets are, however, it does have an impact on our local buyers as well as those trying to get started in the second home market. We've been spoiled with incredibly low interest rates for the past 12 years, but if you look at the chart below, you will see that the interest rates we are seeing today are more "normal" than our most recent experience. It is Nelson Walley Real Estate's opinion that once the shock of rising interest rates wears off, buyers will be less hesitant to move forward with a purchase.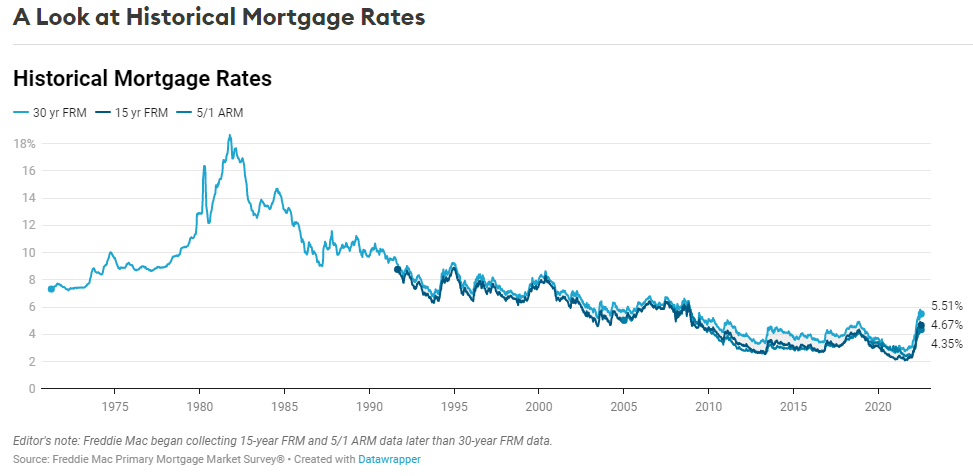 The Stock Market:
Buyer activity in Summit County's real estate market is more reflective of the stock market. We do believe that a steadier stock market will definitely help our real estate market. People do like to diversify after seeing large drops in the stock market – so, as we saw after the Great Recession, we do anticipate people moving money from the stock market into Summit County real estate.
Short-term Rental Regulations:
In our opinion, this factor is having the largest impact on real estate sales in Summit County. Currently, our County Commissioners have implemented a short-term rental license moratorium until February 2023. That means that anyone purchasing a property in unincorporated areas of the County will not be able to receive a short-term rental license until next year – which has a big impact on those buyers who would like to own a mountain retreat, but need the short-term rental income to help defray some of the costs of home ownership. Additionally, the towns throughout Summit County are all considering new short-term rental regulations which could result in additional moratoriums.
If you currently own in Summit County or are considering purchasing in Summit County, we would value your thoughts on short-term rental regulations and the impact that it has on our overall local economy as well as quality of life here in the mountains. Please feel free to share your thoughts at Team@NelsonWalley.com.
Bottom Line:
Yes, there are many factors affecting home prices in Summit County. But in the end, we still believe that we will continue to see appreciation in home values over the next year.