Summer is here in the mountains, and many flock to the water for all sorts of activities. Camping and fishing are among the most popular of these activities, and while a large group of people enjoy fly fishing the numerous rivers and steams with backpack camping destinations in Summit County, many over look the fun and convenient lakes in and just outside of the county. With professionally managed campgrounds that fit both tent and RV campers, and large numbers of stocked and naturally reproducing fish, these lakes are a great weekend trip to relax in the outdoors and wet a line.
Dillon Reservoir
The most obvious and prominent lake in Summit County is Dillon Reservoir. Completed in 1963, the reservoir provides not only drinking water to Denver and the Front Range, but year-round recreation for locals and tourist to the county. Campsites are numerous, and surround the lake. Most require a reservation, especially during peak times. Links to Lake Dillon Campgrounds:
Heaton Bay Campground
Peak One Campground
Pine Cove Campground
Prospector Campground
Windy Point Campground
Lowry Campground

Once you've narrowed down that perfect spot on the banks of the lake, it's time to get that line in the water. Dillon Reservoir is known for its large brown trout population. These fish cruise the rocky bottoms, and feed on the fingerlings stocked by Colorado Parks and Wildlife every year. Anglers will also have a crack at rainbow trout, brook trout, and kokanee salmon. What sets Lake Dillon apart from any other lake in the state, is the growing population of Arctic Char, originally stocked in the 1990's. These cold water fish require deep, cold water in the summer time, and a heavy diet of mysis shrimp, which Dillon Reservoir holds. Dillon is currently the only lake in the state to have these elusive fish, and one of very few in the lower 48 that can sustain a fishable population. The reservoir has many options for targeting all of these fish species, from renting boats, hiring guides, or simply fishing from shore. Below are helpful links to get your fishing trip at Dillon Reservoir started.
Colorado Parks and Wildlife 2020 Dillon Reservoir Fishing Report
Frisco Marina Fishing
Dillon Marina Fishing
Giberson Bay Day Use Fishing Site
Windy Point Fisherman Park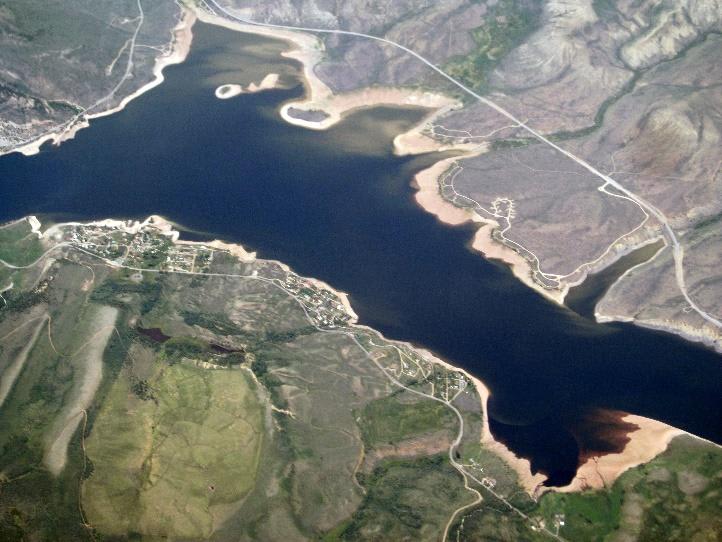 Green Mountain Reservoir
Just a short drive North of Silverthorne, visitors will find Green Mountain Reservoir, an important water source for Colorado's Western Slope. Dammed in 1942, Green Mountain offers campers and anglers many opportunities to enjoy the water, and take in the beautiful mountain scenery. Fed by the Blue River, the reservoir has car, RV, and Tent camping all around the lake, all offering a different aspect of the lake. In the spring to early summer, the lake level is low, requiring anglers take slightly longer walks to get to the water's edge. By mid to late summer water levels rise, and many of the campgrounds offer sites that back right to the water. Links to all Green Mountain Reservoir campgrounds can be found here:
Willows Campground
Elliot Creek Campground
McDonald Flats Campground
Cow Creek South Campground
Cow Creek North Campground
Prairie Point Campground

Green Mountain is home to a wide variety of fish species, including rainbow and brown trout, and kokanee salmon. While these fish live in abundance in the lake, the main species angles come to Green Mountain to catch is the Mackinaw, or Lake Trout. The large, cold-water sport fish give anglers the feel of deep sea fishing in the high mountain lake setting. With the potential to reach over 40 inches in length, and nearly 30lbs, these fresh water sharks give a fight any fisherman would enjoy. While these fish can be caught from shore in the spring and early summer, when the temperatures rise in the later Summer months, they move to deep water, usually requiring a boat or some sort of water craft to find those specific area. Boat rentals and guides are available from the Heeney Marina, just on the West side of the lake. For more information on fishing and boating on Green Mountain Reservoir, follow these links below:
Green Mountain Reservoir
Colorado Parks and Wildlife 2020 Green Mountain Reservoir Fishing Report
Heeney Marina


Williams Fork Reservoir
For a camping and fishing trip a little more off the beaten path, head just north east of Summit County to Grand County, for a trip to Williams Fork Reservoir. Owned and managed by Denver Water for Front Range water use, Williams Fork is known by many as the Trophy Northern Pike Fishery in Colorado. Managed as such, anglers have great luck fishing the muddy, weeded flats of the lake for the apex aquatic predators. Along with northern pike, rainbow, brown, and lake trout all call this lake home. A decent population of kokanee salmon is also present, which helps to feed the larger fish in the lake. Williams Fork has two campgrounds on opposite sides of the lake. While the choices for camping might be limited, it lends itself to be a quieter lake, and many of the campsites site a very short walk from the water. For more information on camping and fishing in Williams Fork, follow these links here:
Williams Fork Reservoir
Colorado Parks and Wildlife 2021 Williams Fork Reservoir Fishing Report
Each one of these mountain lakes offers a unique camping and fishing experience. Take a weekend off and experience each of these this Summer. Give us a call if you are headed to the mountains and want to talk more about any one of the opportunities for camping or fishing, and any of these pristine mountain lakes.