There are a handful of main towns in Summit County, Colo., which is located approximately 75 miles west of Denver, the Colorado state capital.

Some areas of Summit County are a nature lover's paradise, and there are more than a handful of ski mountain towns that give outdoor enthusiasts a chance to enjoy all the best winter sports, such as skating, hiking, snowboarding, sledding, inner tubing, cross-country skiing, snowshoeing, and, of course, skiing depending on the time of year. Don't forget good, old-fashioned snowball fights!

The winter sports in Summit County get the headlines, and perhaps rightly so. But Summit County residents who live there year-round have just as many options during the summer, from outdoor concerts to extreme sports like skateboarding. Then there are fitness activities you can do the entire year. Read on for a condensed docket of seasonal activities in Summit County.
Summer activities
The elevation in Summit County ranges from 14,270 feet high at Gray's Peak to a low of 7,947 feet at Green Mountain Reservoir. Because of its geography, Summit County experiences much lower temperatures than places east of the Continental Divide like Denver. Summer temperatures in Summit County peak in the low 70s Fahrenheit in Juny and July. T-shirt weather lasts from May to September, and you can be outside most days from May through October without the interference of snowstorms.

Here are some summer activities for the family in Summit County.
Concerts at Dillon Amphitheater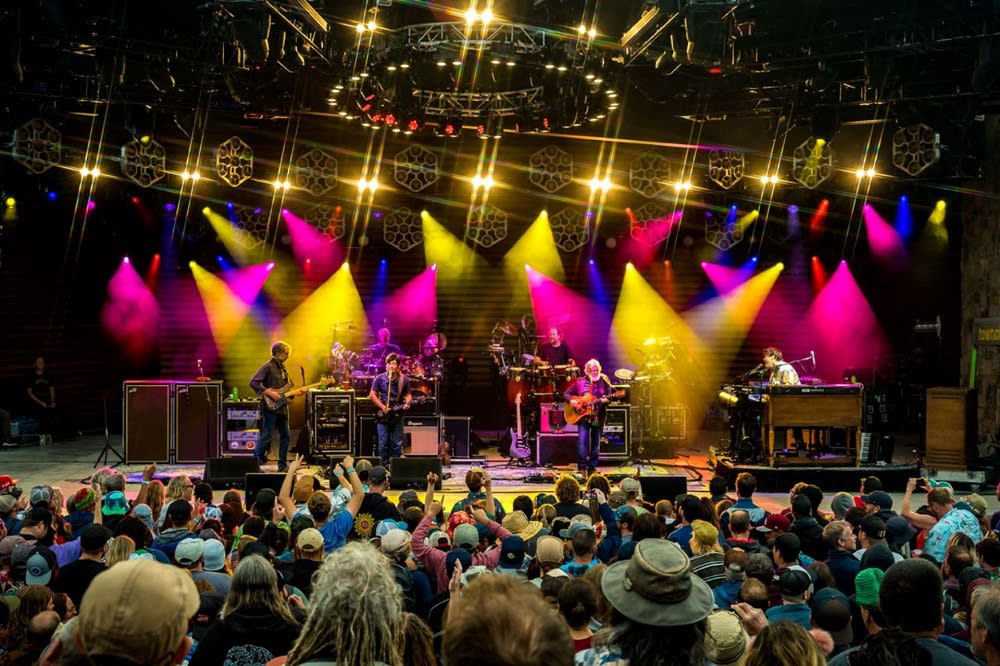 The Dillon Amphitheater
(located in Dillon, Colo.) is the place to be for live performances and concerts. Each year brings cover bands, the Colorado Symphony, and vocalists from nearly every music genre from jazz and country to rock 'n roll to pop. This summer, legendary folk singer Bob Dylan made a rare appearance on what could be his farewell tour.
The amphitheater offers a majestic lakeside setting with panoramic views of the Rocky Mountains — it's certainly not to be missed! Shows typically run from mid-June to mid-September. Check the venue's
online calendar
for upcoming concerts and movie nights.
Skateboarding in Breckenridge
Photo courtesy of Frisco Adventure Park's Facebook
Breckenridge Recreation Center
greets visitors with different size and skill-level play structures, as well as an outdoor skatepark for budding Tony Hawks-to-be! There are skateboarding camps, competitions, and lessons for those newly interested in the sport.
Winter activities
According to 2020 census data, the permanent population of Summit County is just greater than 30,000. That figure swells once the region gets its first snowfall of winter. Along with the expanded populace, winter brings different degrees of specialized sports. New skiers take to bunny slopes, and the pros are in town to hit the toughest lines. Here are some ways to get in the winter spirit in Summit County.
Inner tubing in the snow
Frisco Adventure Park
takes visitors back to the good ol' days with its dedicated tubing winter hill, where the wide variety of tubing lanes await thrill seekers both bold and shy. You can also romp the trails in snowshoes or strap on a pair of Nordic skis to enjoy the scenery and get back to nature. Be sure to stop at the Day Lodge for a tasty lunch or a hot toddy (or hot cocoa!) by the fireplace before returning to your search for homes for sale in Summit County.
Skating and sleighing
Grab your ice skates and head over to North Pond Park in Silverthorne, where you'll find yourself in a glorious winter wonderland that recalls images of a seasonal Norman Rockwell painting.
Carter Park
in Breckenridge offers free sledding (be sure to bring your own sled!) for families and couples.
Check out the wonder of a wintry backcountry horse-drawn sleigh ride! Riders can cozy up under warm blankets as horses guide the sleighs through fairytale-like forested paths. Many rides end the night with appetizers and hot beverages back at the lodge.
Enroll in ski school
If you're bringing kids to the mountains, ski school is the quickest and safest way to get them onto the slopes. Lessons fill up fast, so book your spot in advance of ski season, which generally runs from November through April. Specific offerings vary by school, and options include adult group classes, youth group classes, and private family classes.
Breckenridge Resort Ski School
,
Copper Mountain Resort Ski School
, and
Frisco Beginner Ski Hill
each are good options and can be convenient depending where you're staying in Summit county.
Year-round activities
Do you or your children have an activity of particular focus that takes place indoors? People with summer or winters homes in Summit County often go with the flow of the seasons, but permanent residents can swim, climb, and play year-round. Here are some activities you can do January through December.
Indoor sport and play at the Breckenridge Rec Center
We've already covered skateboarding at the
Breckenridge Recreational Center
. Besides the skate park, there also are the warm indoor pools and twisty slides and family gym areas for all-inclusive fun. In separate facilities, adults can indulge in indoor tennis, racquetball, climbing, plus hockey at the ice rink, to name a few. The recreation center offers both annual memberships and multi-day passes for visitors staying on vacation while they finalize their deals on homes for sale in Summit County.
Swimming and fitness classes at Silverthorne
The Silverthorne Recreation Center
offers visitors both young and formerly young a variety of sports fields and playgrounds, as well as a large indoor pool outfitted with a water slide, a splash pool for the smaller kids, and lap pools that double as water volleyball courts. The recreation center also has full gym facilities and a wide variety of fitness classes within its 65,000-square-foot complex. There's an indoor running/walking track and a hot tub, steam room, and sauna so visitors can relax after their activities. More great perks include the center's drop-in classes and childcare facilities both for those with families who live in Summit County and those visiting the area.
Educational and creative children's programming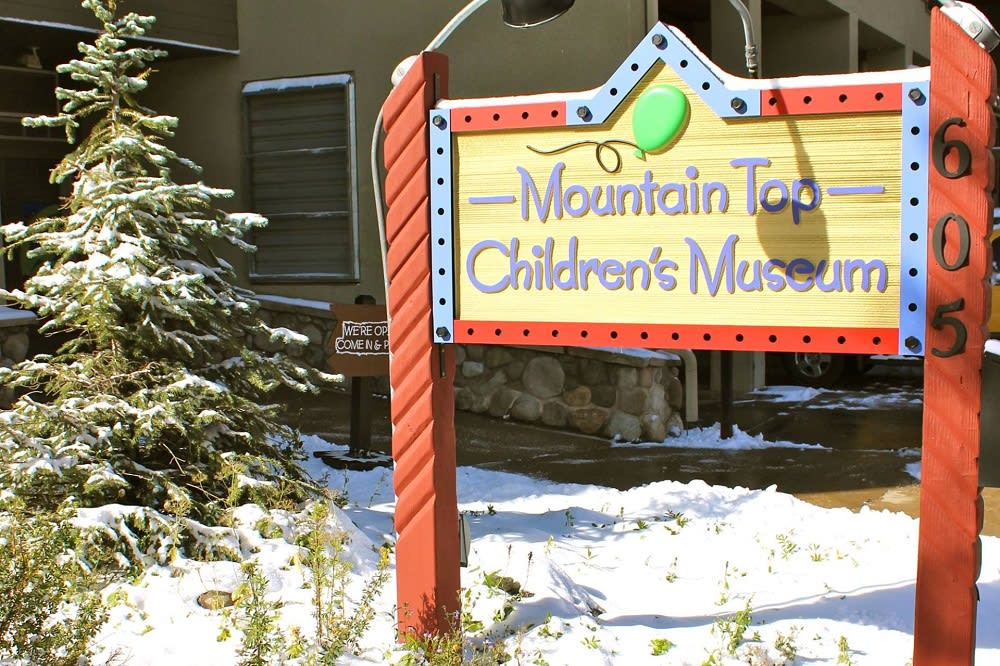 Photo courtesy of Mountain Top Children's Museum's Facebook
Breckenridge Creative Arts
offers exhibitions of local and international media artists, photographers, sculptors, painters, and more. Budding artists can sign up for classes such as Upcycled Sculpture for Teens, Beginner Metalsmithing Projects, Clay Hand Building, and Beginner Glassblowing, just to name a few. The organization also gives tours of the local arts district, the town of Breckenridge, and several of its notable attractions, including the Sawmill Museum and the Highline Railroad.
Mountain Top Children's Museum
in Breckenridge presents Kid's Night for children ages 4-12 years old. Little ones can feast and play while their parents enjoy a date night or just some quiet time alone. One favorite activity is a "Kidstruction Zone," where kids can dig in the dirt and build block structures. The STEM Lab allows kids to dismantle appliances, create glow bugs, and try new (and safe!) technology. The Children's Museum also hosts summer day camps and school-age programs.
Want to live near all of these fun activities? Reach out to Summit County real estate expert
Nelson Walley
for expert assistance in finding the perfect property for your needs.
*Header photo courtesy of Frisco Adventure Park's Facebook