Land Title has provided us with a Market Analysis for September 2022 which gives us stats based on all sales (whether through the MLS or sold off-market). The report below shows how Summit County compares to other Colorado mountain communities. We rank 2nd to Pitkin in Average Price Increase of Single-family homes while we rank 4th in the increase of Multi-family home prices (due in part to short-term rental regulation discussions happening in Summit County).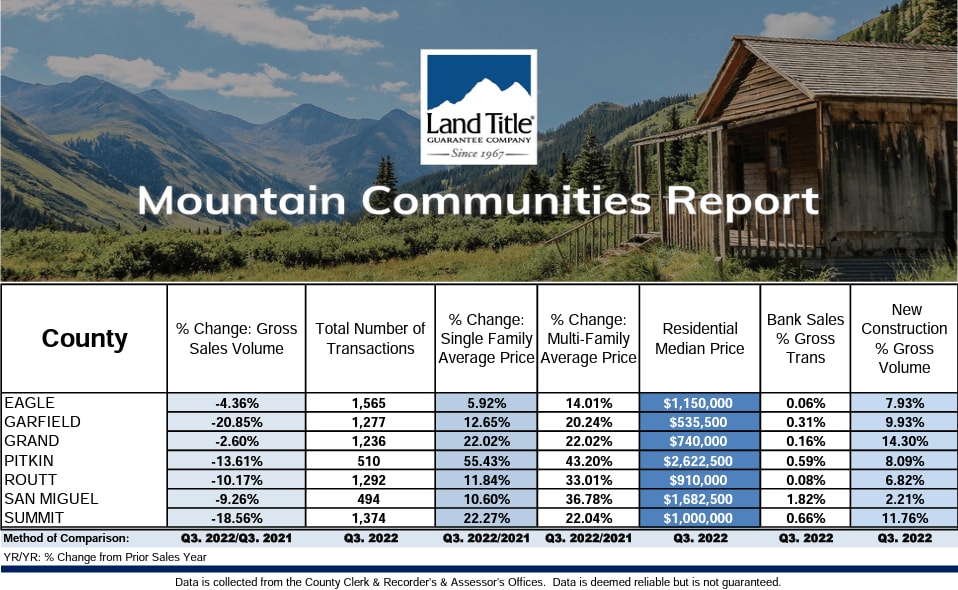 View the entire Summit County Market Analysis from Land Title.
Looking only at Summit County, we are definitely seeing a slow-down in appreciation rates and in some cases (mainly in unincorporated Summit County multi-family properties) we are seeing a slight decline in prices. Overall, for the first 3 quarters of the year both Single-family and Multi-family properties are 22% higher than they were for the first 3 quarters of 2021.
The Year-To-Date (YTD) average price of Single Family homes throughout Summit County is $2,0999,375 (compared to $1,717,028 YTD in 2021). The YTD average price of Multi-family homes is $915,341 (compared to $750,022 YTD in 2021). And, the average price of Vacant Land is $643,623 (compared to $504,480 YTD in 2021).
The Summit County real estate market has definitely been affected by rising interest rates and the short-term rental discussions & moratoriums - but we are mostly affected by the stock market. After reaching a peak in the mid-400's for inventory, we have dropped back down to 319 residential, market-rate properties on the market as of this writing. The drop is typical as we move into the winter season and while I know I sound like a broken record, we are still at record low inventories. Keep in mind that as recent as the summer of 2019, we had over 800 residential properties on the market and before that, in 2014-2015 we had between 1,000 - 1,500 properties on the market. So, contrary to what it may feel like after going through the frenzied real estate markets of 2020 & 2021, we still have very little inventory which works in the favor of homeowners to keep prices up there.