We moved to Summit County in 1999. At the time, our boys were ages 5 and 2. With not much money in our pocket, it became necessary for us to find things to do with them that were free or cheap. With two highly active little critters, hiking became one of our "Go-to" activities.
We soon found that it was important to find hikes that met the following criteria:
• Not too long

• A hike that offered little rewards along the way

• A hike that provided an intriguing destination

• And of course, we needed to bring along FOOD!

The beautiful thing about Summit County is that it offers many different hiking trails that accommodate many different difficulty levels. While you can now utilize the internet to find the perfect trail for your family, we did not have that available in 1999. I am also one who likes to have my resource at my fingertips when I'm on the trail. So, I turned to "The Summit Hiker and Ski Touring Guide" which was written by my now, dear friend, Mary Ellen Gilliland. Mary Ellen LOVES the mountains, she loves to hike, snowshoe, and cross-country ski. And she is also a historian who has written several books about the history of Summit County (but that is a topic for a future article).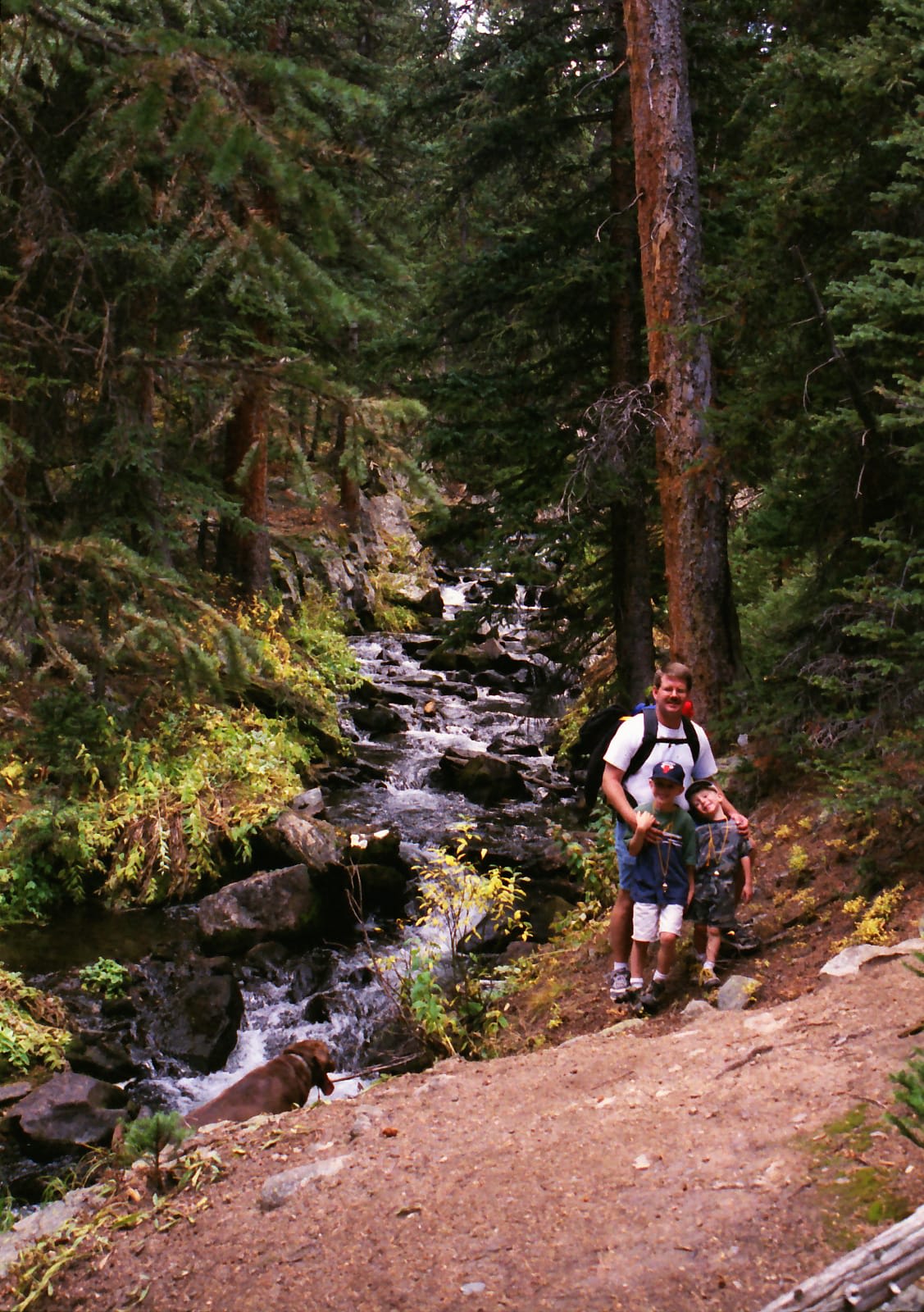 The Summit Hiker became our bible for hiking. My husband and I would peruse the available options, determine the boys' temperament for that day, checked the weather, and then selected the hike we thought would be the best for that day's adventure. I treasure my first Summit Hiker because I kept notes on how long the hike took us, what we found along the way, what intrigued the boys the most, and our general feelings about the trail.
We started out with the easiest trails first and eventually moved onto more moderate hikes. By the time they were in elementary school, we were even conquering some the of the more difficult hikes.
In keeping with the theme of this blog, I will stick with our favorite Little Tyke hikes. I hope that you will find this information helpful and will enjoy your family time in the wilderness as much as we did.
Lily Pad Lakes
The first hike we did was the Lily Pad Lakes Trail. 22 years later, the trails are well-worn and well-marked. But in 1999, we often found little side trails and weren't sure which fork to take. So – a hike that should have been about 1 ½ hours round trip ended up being more like 3 hours round trip. Keep in mind that the boys were 5 and 2 – and the 2-year-old became tired very easily….until he heard running water – then he would dash to find out where the spring was located. Then we would stop so that they could throw rocks….and throw rocks….and throw rocks!! Patience was the name of the game!
Lily Pad is such a wonderful hike for children and visitors acclimating to the altitude. Your treats at the end are beautiful lily-pad covered ponds, a beaver dam (and if you're lucky you'll see the beaver), and little trails circling the ponds.
Sapphire Point
Of course there is always Sapphire Point at the top of Swan Mountain Road. This is a favorite location for weddings, but kids will enjoy the short walk (.8 miles), the chipmunks, and the teepees of fallen trees located along the walk. Be sure to bring along a little lunch that you can enjoy on the picnic tables at the far point where you can take in the gorgeous views of Lake Dillon and the Gore Range.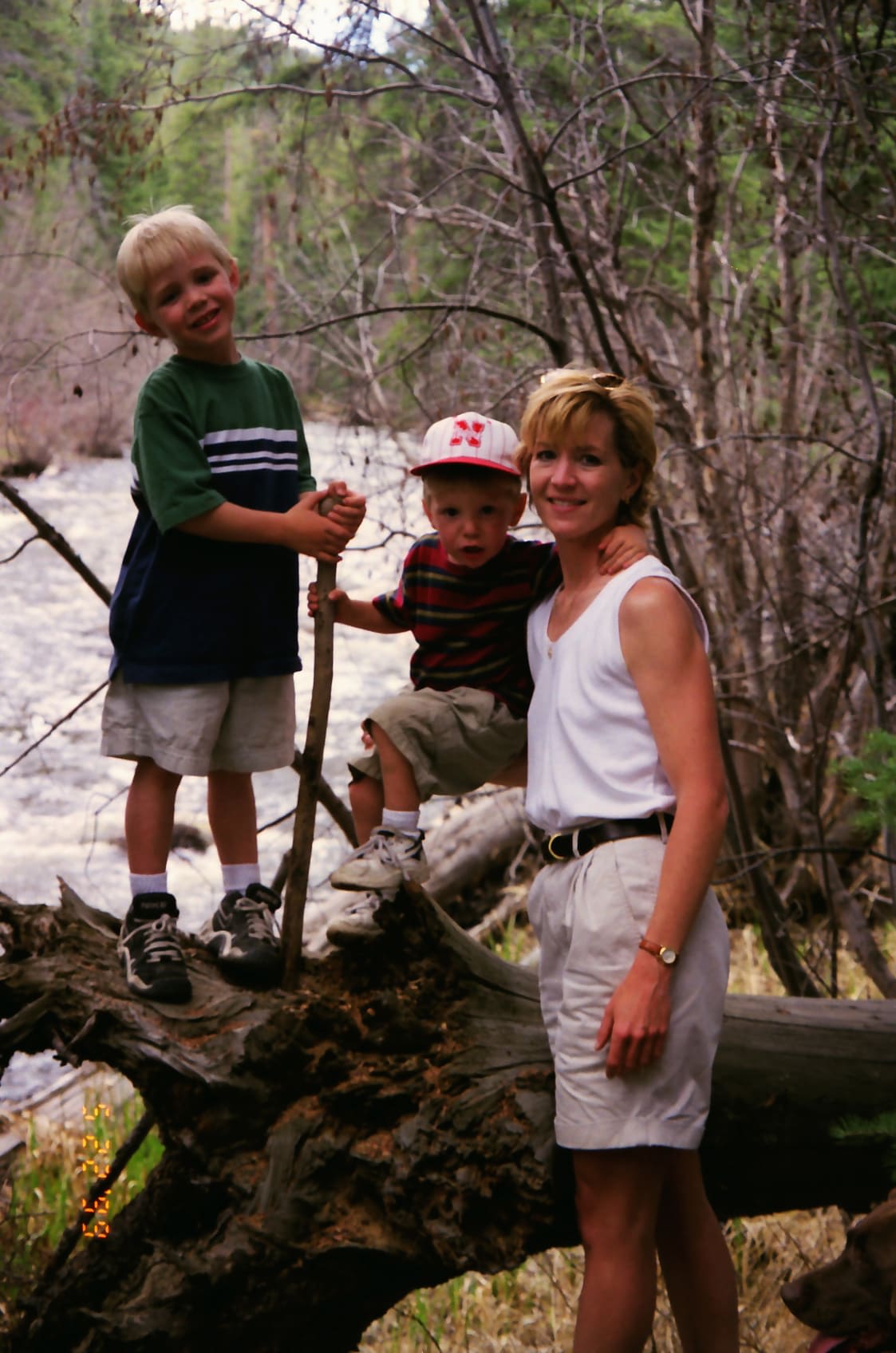 Lower Cataract Lake
This is probably my most favorite hike. I remember the first time we traversed this trail the boys were thrilled to experience aspen groves, rocky paths, a waterfall, and open meadows. And, of course, there's the lake itself which lends itself to many hours of rock throwing. The drive to Lower Cataract Lake is a bit longer than some of the other hikes. It is 16 miles north of Silverthorne (close to Green Mountain Reservoir). You will find so many varieties of flowers! We got lucky and saw a bear one year!! The trip around the lake is about 2 miles (it is a loop), but there is only 100' of elevation gain, making it super easy for kids.
Boulder Lake
The first hike we took where we stepped up to a "moderate" hike was Boulder Lake. This hike is "in and out" (not a loop) for a total of 4.8 miles. You will traverse through wooded areas (and often find bear scratches in the trees), rocky paths, little streams, and finally, at the end, a beautiful, peaceful lake. By this time our boys were into fishing, so we packed along a lunch and let them spend an hour fishing (catch & release) before we headed back to the car. This one is a stretch for very young kiddos, but there are plenty of stops along the way. We encouraged the boys to search for mushrooms and flowers, looked for wild animal scat, and took in the gorgeous views when the forest opened up to meadows.
Hiking with young children is such a wonderful way to expose your youth to the joy of the outdoors. Escape from screens, toys, and other distractions and use the time to focus solely on your family.
Get creative and have the kids help you come up with special "hiking treats" that you make together and only get on the days you go out for a hike. Our boys also loved finding "trekking sticks" that they used on the hike. They would then bring them home and we would wrap the handle part in colorful yarn so it was ready to use for the next trip. Finally, don't forget the water!!
Today you can use great apps like AllTrails or stop by the forest service office in Silverthorne for trail information. But I do encourage you to pick up a copy of "The Summit Hiker". You can find it at The Next Page bookstore in Frisco.
See you on the trails!!