It's coming! The first snow is on its way to Summit County, and that has many ready for the Winter Season and all of the activities that come with it. But what is this winter going to look like? How much snow are we getting in the county?
While there are a hundred different opinions on what future weather hold, and no way of being completely sure, one of the most trusted forecasts in the business, The Farmers Almanac, might be one to look at to bump that excitement!
Here in Colorado, especially in Summit County, we are almost perfectly located between 2 separate areas, which gives us the ability for either a snowy & cold or dry and mild season. Predicting plenty of snow and cold temperatures, The Farmers Almanac is predicting a Winter that those who love Winter sports will love. Colorado is looking to receive its fair share of snow throughout the Winter months. Some forecasts speculate significant snow accumulation, even by early January.
Temperature wise, the entire country is in store for below normal temperatures. The Farmer's Almanac predicts record breaking cold temperatures, even reaching -40* in some areas of the US! As for Colorado and the surrounding states, it is forecasted for significant cold temperatures, in what the Farmer's Almanac has called a "Hibernation Zone" and "Glacial, Snow-Filled." As skiers, snowmobilers and ice fishermen, we here at Nelson Walley are excited!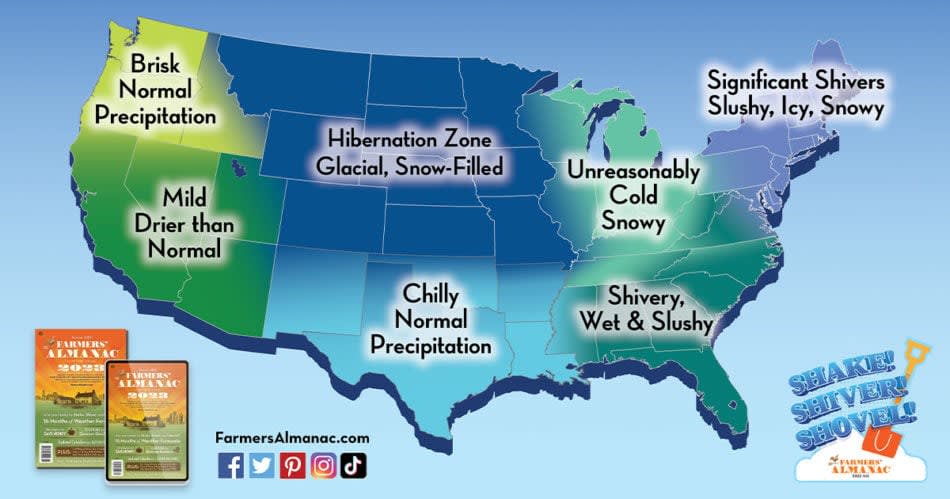 This Winter has the makings to be one for the books! Regardless of how you feel of the snow and Winter, it is coming and looks to be much better for precipitation than recent years. The Farmer's Almanac has warned its readers to be ready to "Shake, shiver, and shovel!" Break out that parka and dust off the skis; winter will be here before you know it!
Check out The Farmer's Almanac Prediction for the 2022-2023 Winter Season.